Go Back
Free Shipping
on orders over $200
The Ion NOVA SELECT is the pride and joy of our women's range.
Incorporating high-tech features, it is easy to use and offers amazing support. The Wire_Tec combined with the new Archbar and Hyperfoam disperses direct pressure points and keeps the Harness in place. The X_Spine has been reworked to complement its overall function, and the newly reduced upper back outline was designed specifically for women.
FEATURES
Wire_Tec: Delivering an even load distribution across the harness, with added support patent pending
High Performance Pre-Shape: Inside 3D EVA Shape lock into your waist and prevent friction. Combined with the comfy Hyper Foam for ergonomic fit without sucking water.
Internal Flex_Belt: Keeps your harness in place when unhooked
C_Bar: Fiber reinforced injection material with a modular exchangeable metal hook.The new tension lever tightens the harness without changing the buckle settings.
With the C-bar, ION introduces a new technology for spreaderbars. Two features mark the difference: the new tension lever system tightens the harness without having to change the buckle settings, therefore guaranteeing a perfect fit. This new system provides a symmetric force spread while riding and is therefore very comfortable. The C-Bar is made out of fiber re-inforced injection material instead metal, which makes it ultra lightweight.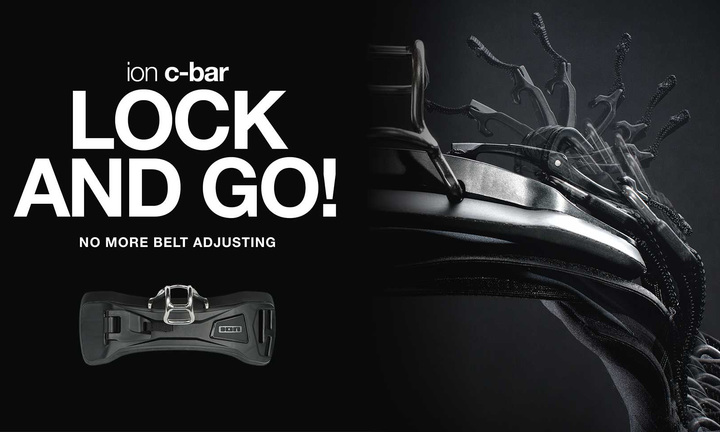 In most cases, goods are delivered to you by Australia Post. Items over $100 are sent by Registered Post or Courier - at no additional cost to you. Items longer than 1m or heavier than 10kg may need to be sent via a Courier, and cannot be sent to a PO Box. We will contact you if this is the case, and you will need to provide a daytime address where someone can sign for the goods upon delivery.
For peace of mind, products purchased from kitepower.com.au can be returned (at the buyers expense) for a store credit to be used against a future purchase. Goods must be returned in new condition, and within 14 days of receipt.
Most manufactures have a warranty on their equipment, and we will honour these where applicable.
Now you can have the prompt delivery and after sales service we have always offered... AND get your purchase at the lowest possible price.

We endeavour to keep our prices as low as possible, and while we have always matched our competitors prices, we are now making it official - if you find a better advertised or online price, we will match it (or even beat it, if possible) - Guaranteed*. 


*Of course, there are a few conditions:
The price must be advertised in some way, or listed on a competitors website.
It only applies to products that are IN STOCK, and only to stores in Australia.
Does not apply to old stock, used or demo gear.
Shipping must be taken into account when comparing prices!



How do I take advantage of the Price Promise?
Phone us to confirm, or if you order online, simply give us the details on the price you found when you place your order - there is a section for your comments at the time of checkout. We must be able to verify the quoted price in order to process your order at the lower price. 

Peace of mind
If you find a lower price AFTER you buy from us, then we will give you the difference as a credit towards any future purchase. Offer valid for 14 days from purchase date - so you've got two weeks to make sure you got a great deal from Kitepower, as usual. 

It's a way of saying, "thank you for your business"...