Go Back
Free Shipping
on orders over $200

THE ALPHA V1 IS A UNIQUE SINGLE STRUT DESIGN THAT HAS REDEFINED OUR EXPECTATIONS OF INFLATABLE KITES. IT'S SIMPLE, INCREDIBLY LIGHTWEIGHT AND VERY EFFECTIVE – IT IS A WINNER FOR ANY QUIVER.
New colours for 2020 - Green, Yellow, Blue

Grab a twin tip and go cruising or jumping, enjoy the ride while progressing with ease. You will be surprised at the jumping and looping capabilities of the Alpha; it has smooth lift and hang-time with precise feedback. The Alpha has great upwind performance thanks to the innovative flat arc design and an efficient high lift airfoil section.

The lightweight design translates to incredible low-end performance making the Alpha a very competitive choice not only for light wind freeriding, but also the expanding freeride hydrofoil scene in almost any wind strength. The power to de-power stroke is progressive and dynamic enough to provide smooth lift for transitions and jibes with a foil board.

For high wind foiling in chop or waves, take a small size with shorter lines for loads of fun drifting the kite while carving swells across the wind.

In the surf the Alpha is perfect for drift style wave riding as it floats with you. The handling is direct and responsive which allows you to put the kite where you need it. The Alpha is not as dedicated to waves as the Reo, but it still delivers solid performance in cross-shore to on-shore conditions.

Water re-launch is easy, by simply turning the bar or using the re-launch balls on the leader lines, the kite will roll over into the re-launch position.

Going traveling? Take the Alpha with you, it's incredibly lightweight, packs small and can do anything you want to do on any given day…

The Alpha V1 comes standard with an ultra lightweight Compressor Bag, perfect for travelling and day-to-day protection for your kite. It is easy to use and compresses a kite to minimal size. Combine with the Technical Bag to fit multiple kites inside one carry bag.
FEATURES
Designed With OZ-CAD
Exceptional Ozone Factory Construction
Teijin TechnoForce D2 & Teijin Dacron
4-line Pulley-less System
One-Pump Inflation System
High volume inflate/deflate valve
Tuned Bridle Geometry
Fool proof line connectors
Anti-Snag line deflectors
Direct Connect Struts
Unique bladder construction
Double Stitched Folded Seams
Internal reinforcements
Load Distribution Panels
Low profile aerodynamic Scuff Pads
Reinforced Leading Edge and Struts
Reinforced Trailing Edge
WIND RANGE, BAR SIZE & WEIGHT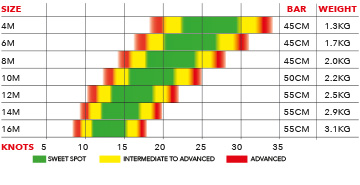 Wind range is indicative only based on an average rider weight of 80kg.
Actual range will vary based on rider skill level and type of board used.
Ozone Alpha V1 - A Winner For Any Quiver from Ozone Kites on Vimeo.
In most cases, goods are delivered to you by Australia Post. Items over $100 are sent by Registered Post or Courier - which will require a signature on delivery. Free shipping on orders over $200 (signature required). Items longer than 1m or heavier than 10kg may need to be sent via a Courier, and cannot be sent to a PO Box. We will contact you if this is the case, and you will need to provide a daytime address where someone can sign for the goods upon delivery.
For peace of mind, products purchased from kitepower.com.au can be returned (at the buyers expense) for a store credit to be used against a future purchase. Goods must be returned in new condition, and within 14 days of receipt.
Most manufactures have a warranty on their equipment, and we will honour these where applicable.
Now you can have the prompt delivery and after sales service we have always offered... AND get your purchase at the lowest possible price.

We endeavour to keep our prices as low as possible, and while we have always matched our competitors prices, we are now making it official - if you find a better advertised or online price, we will match it (or even beat it, if possible) - Guaranteed*. 


*Of course, there are a few conditions:
The price must be advertised in some way, or listed on a competitors website.
It only applies to products that are IN STOCK, and only to stores in Australia.
Does not apply to old stock, used or demo gear.
Shipping must be taken into account when comparing prices!



How do I take advantage of the Price Promise?
Phone us to confirm, or if you order online, simply give us the details on the price you found when you place your order - there is a section for your comments at the time of checkout. We must be able to verify the quoted price in order to process your order at the lower price. 

Peace of mind
If you find a lower price AFTER you buy from us, then we will give you the difference as a credit towards any future purchase. Offer valid for 14 days from purchase date - so you've got two weeks to make sure you got a great deal from Kitepower, as usual. 

It's a way of saying, "thank you for your business"...